Remembering When Americans Picnicked in Cemeteries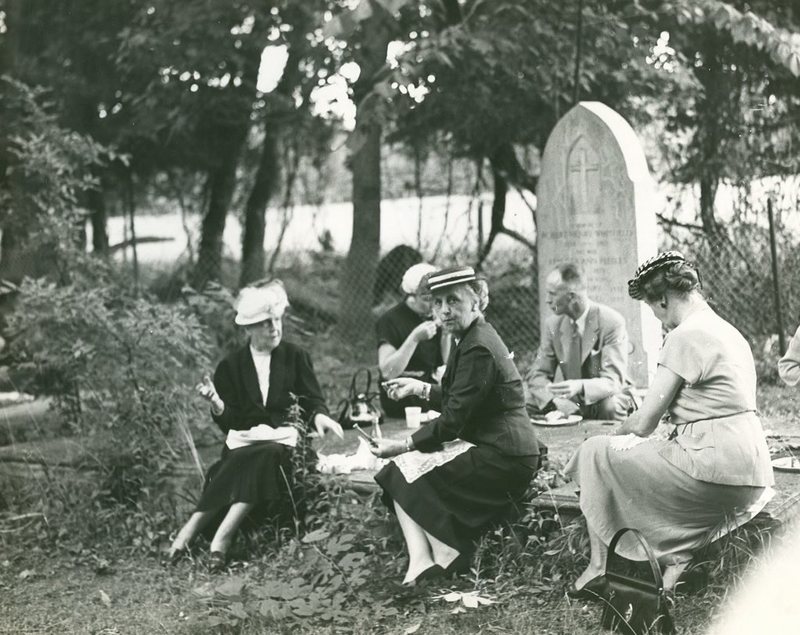 WITHIN THE IRON-WROUGHT WALLS OF American cemeteries—beneath the shade of oak trees and tombs' stoic penumbras—you could say many people "rest in peace." However, not so long ago, people of the still-breathing sort gathered in graveyards to rest, and dine, in peace.
During the 19th century, and especially in its later years, snacking in cemeteries happened across the United States. It wasn't just apple-munching alongside the winding avenues of graveyards. Since many municipalities still lacked proper recreational areas, many people had full-blown picnics in their local cemeteries. The tombstone-laden fields were the closest things, then, to modern-day public parks.
In Dayton, Ohio, for instance, Victorian-era women wielded parasols as they promenaded through mass assemblages at Woodland Cemetery, en route to luncheon on their family lots. Meanwhile, New Yorkers strolled through Saint Paul's Churchyard in Lower Manhattan, bearing baskets filled with fruits, ginger snaps, and beef sandwiches.
One of the reasons why eating in cemeteries become a "fad," as some reporters called it, was that epidemics were raging across the country: Yellow fever and cholera flourished, children passed away before turning 10, women died during childbirth. Death was a constant visitor for many families, and in cemeteries, people could "talk" and break bread with family and friends, both living and deceased.
---
---